Flatpicking 1998 $10.00
(plus shipping & handling )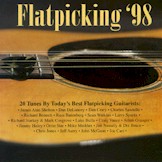 Starting off with a rousing, throbbing cross-picked version of LONESOME RUBEN by James Alan Shelton, this 20-tune compilation put together by the folks at Flatpicking Guitar Magazine gives the listener a wonderful chance to hear a variety of guitar styles, and some work by otherwise obscure musicians. The disc, the second of its kind, is composed of outstanding tracks from 20 different CDs from almost as many labels. It's all good music here, with fine cuts by DAN CRARY, THE BULLAS, CHRIS JONES, LARRY SPARKS, JEFF AUTRY, RICHARD BENNETT and others. In a nice feature, the sampler shows the covers and gives the addresses of the contributing albums & companies so fans can trace down any full albums they might want to obtain. DANNY BOY, SHADY GROVE, NASHVILLE BLUES, WHING DING, BELFAST, ROAN MOUMNTAIN RAG, BIG SCIOTA, SALLY GOODIN, SANTA FE RAILROAD LINE, CROSS THE BRIDGE, etc.
Outstanding music from some of the best flatpickers in the world.
A collection of songs published in Flatpicking Guitar Magazine
---
---