Hot N Spicy $10.00
(plus shipping & handling )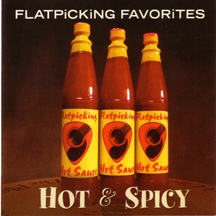 Song List:
Panhandle Rag (Maddux & Cook)
Wheel Hoss (Davis & Sutton)
Farewell Blues (Grier & Hurst)
Cherokee Shuffle (Smith & Fore)
Lonesome Fiddle Blues (May & Kilby)
Gold Rush (Kilby & Davis)
Lonesome Reuben (Rice & Keel)
Big Sandy River (Kaufman & Curry)

Bill Cheathum (Eldridge & Falco)
Arkansas Traveler (Harman & Tinnon)
Leather Britches (Kessinger & Cosgrove)
Salt Creek (Nunally & Nygaard)
Forked Deer (Hurst & Stafford)
Flop-Eared Mule (Kessinger & Smith)
Cattle in the Cane (Cosgrove & Fore)
Back Up and Push (Sutton & Grier)
Featured on this project are: Mike Maddux, David Grier, Bryan Sutton, Jim Hurst, Brad Davis, Cody Kilby,

Tim May, Scott Nygaard, Jim Nunally, Gary Cook, Mark Cosgrove, Kenny Smith, Robin Kessinger, Steve Kaufman, Roy Curry, Scott Fore, Andy Falco, Bull Harman, Cecil Tinnon, Chris Eldridge, Tim Stafford, Wyatt Rice, and Larry Keel. (For those counting, that's seven Winfield winners and four IBMA Guitar Players of the Year!)
When Dan Miller (of FGM Records and Flatpicking Guitar Magazine) responds to reader and customer requests, he does it in a big way!
On its face, this CD features 16 guitar duets of flatpicking "standards" -- but these tunes are now anything but standard. Dan gathered as many flatpicking luminaries as he could and asked them to play "hot and fast." And the pickers responded. Tired of playing these tunes the same old way, they added a spicy twist to each duet, adding new approaches, new licks, and new phrasings.
---
---